Customer Reviews
04/19/2021
Anonymous

United States
I recommend this product
Shirt is a bit overpriced and I get this is an awesome charity
The t-shirt is very thin and my preference would have been for something a bit beefier given the price. I am also cool with the contribution made to a great organization. I am recommending the product as long as you know it is a light weight T
04/20/2021
Live Inclusively® by The Winters Group
Thank you for your review! Sorry that you feel the shirt is too light for your style. Due to the original art work and the colors within the shirt, it is priced higher than our other tees. Hope you enjoy wearing and making a statement! #LiveInclusively
03/07/2021
Anonymous

United States
I recommend this product
Love it!
I love my shirt. It's so comfy!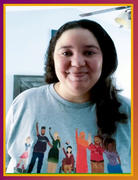 04/20/2021
Live Inclusively® by The Winters Group
Thank you! Looks so great on you!
03/04/2021
Anonymous

United States
I recommend this product
Love these tshirts
With quarantine, I am wearing more and more t-shirts. The shirts from Live Inclusively have become a staple in my comfy-chic wardrobe. They are very comfortable and have a great message. The drawing is fun and the colors really pop as well. While this shirt isn't as soft as the "Peace, Love, Inclusion" shirt, it's still light and breathable (definitely not that stiff, paper-y cheap material). I love this product and can't wait to show it off on zoom calls.
04/20/2021
Live Inclusively® by The Winters Group
Thank you for your kind review! Hope you're sparking some conversations on your Zoom calls with our tees. Please send us some pictures of you wearing your swag. Thanks again! #LiveInclusively